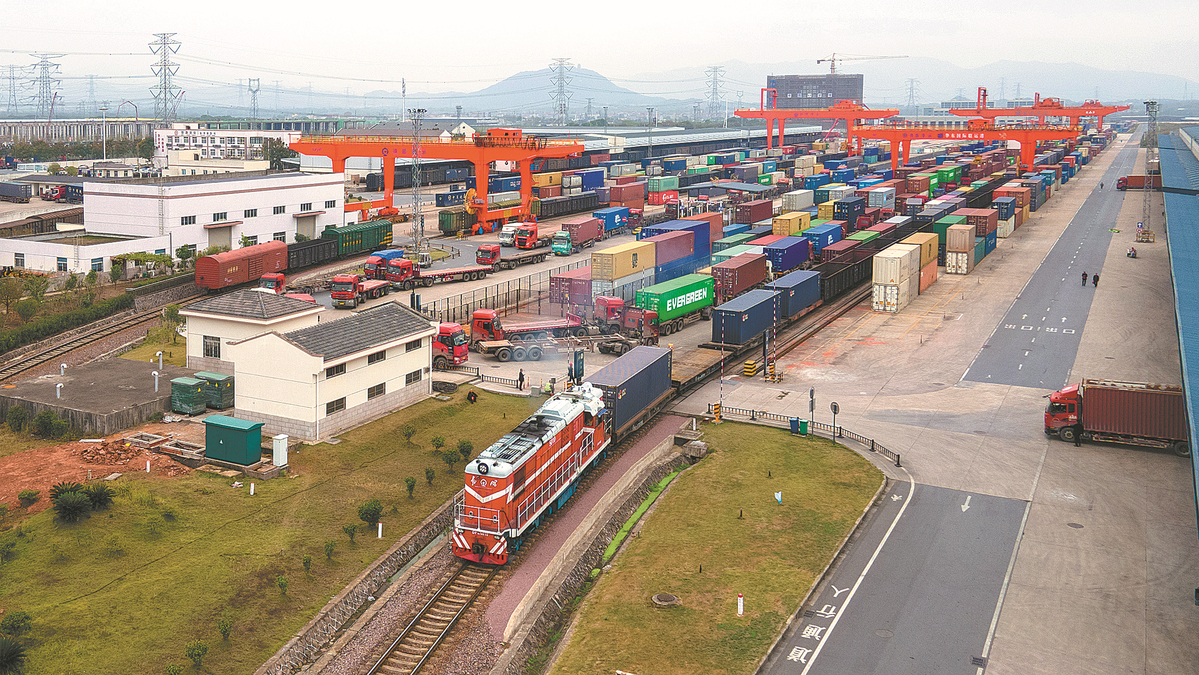 Demand likely to rebound in coming months on supply chain resilience
China's foreign trade will maintain a steady growth rate this year, despite headwinds from weakening overseas demand, said market watchers and exporters on Wednesday.
Even though the country's growth rate of foreign trade slowed in November due to factors like growing geopolitical tensions and high commodity prices, its foreign trade value rose 8.6 percent year-on-year to 38.34 trillion yuan ($5.78 trillion) during the January-November period this year, data from the General Administration of Customs showed.
The monthly slowdown was mainly affected by softening overseas demand, inflation pressure and a high growth base during the same period last year. The sluggish performance of China's real estate sector also dragged on the recovery of both domestic demand and import demand, said Zhou Maohua, an analyst at China Everbright Bank.
Given the resilience of China's supply chains, continued upgrading and optimization of its industrial structure and strong competitiveness of the auto industry, the country's domestic and overseas demand are likely to rebound in the coming months, he said.
Such factors have already propelled exports of mechanical and electrical products, which grew by 8.4 percent year-on-year to 12.47 trillion in the first 11 months of the year, accounting for 57.1 percent of total export value, GAC data showed.
China's general trade maintained double-digit growth — 12.4 percent — to reach 24.47 trillion yuan, accounting for 63.8 percent of the total trade volume.
Zhou predicted China's export growth will continue to contract this month, but maintain a steady growth rate for the whole year.
In addition to moving faster on talks with the Cooperation Council for the Arab States of the Gulf (GCC) for a free trade agreement, China is working on the 3.0 version of the China-ASEAN Free Trade Area. The country's recent moves to further ease COVID-19 containment measures will drive up domestic demand in the months ahead, said Gao Lingyun, director of the international investment division at the Institute of World Economics and Politics, which is part of the Beijing-based Chinese Academy of Social Sciences.
As the appreciation of China's currency, trade protectionism and interest rate hikes in other parts of the world may pile pressure on Chinese exporters next year, it is vital for the government to introduce new policies to mitigate risks and create conditions for exporters to secure more foreign orders, especially in the area of cross-border e-commerce, said Mao Zhenhua, co-director of the Institute of Economic Research at the Beijing-based Renmin University of China.
Rather than waiting for the orders to flow in, a number of delegations formed by export-oriented companies and local governments in East China's Zhejiang province have been attending, or are set to attend, business events abroad, such as the Asia Fashion Fair 2022 Tokyo and the 13th China-UAE Trade Expo in Dubai, to meet previous customers and further explore overseas markets. Their destinations also include Indonesia, Thailand, France and Germany.
For instance, Jiaxing in Zhejiang province confirmed that more than 80 groups of exhibitors will participate in various overseas trade exhibitions by the end of 2023, and there will be five groups going abroad this month, according to the city government.
Such moves are a practical way to promote overseas commerce. It will effectively boost companies' confidence and offer opportunities for personal meetings with overseas clients, said Fei Zhongfu, chairman of Ruili Household Textile (Jiaxing) Co Ltd.
The China Council for the Promotion of International Trade also announced last week that it has approved 15 overseas economic and trade exhibition projects out of 35 such exhibitions planned to boost exports. These 15 events were scheduled to be held between November this year and February of next year in eight countries, including Germany, the United States and the UAE.
"Bolstered by opening-up measures, China's advantages including market stability and a high-efficiency production rate will ensure the country succeeds in the future industrial chain and global markets," said Yi Xiaozhun, former deputy director-general of the World Trade Organization.