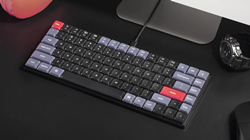 "Keychron S1 is the first ever 75% layout all-metal low profile custom mechanical keyboard. The whole body of the keyboard is processed through CNC machined, polished, anodized, sandblasted, and undergoes 24 more manufacturing stages to make the S1 slim, elegant and solid."

HONG KONG (PRWEB)
November 22, 2022
Keychron, established manufacturer of wireless mechanical keyboards for Mac, Windows and Android, has launched direct sales of S1 on their website. With its all-metal ultra-slim CNC machined body, QMK/VIA support, Gateron low profile switches and Keychron-designed LSA low profile double-shot PBT keycaps, the S1 provides a high-end typing experience, a unique design setup, and endless possibilities. Two options are available⁠: white backlight and RGB backlight. White backlight comes with low profile Gateron mechanical switches in red, blue or brown for $109 USD. RGB Backlight offers the same options as well as hot swappable switches for $119 USD.
"Keychron S1 is the first ever 75% layout all-metal low profile custom mechanical keyboard," said Paul Tan, COO of Keychron. "This is notable because it's challenging to manufacture slim keyboards with a solid piece of aluminum. The whole body of the keyboard is processed through CNC machined, polished, anodized, sandblasted, and undergoes 24 more manufacturing stages to make the S1 slim, elegant and solid."
"Our new S-series will comprise low profile, CNC machined, all-metal models with a high-end, solid feel, as opposed to light, plastic keyboards," continued Tan. "S1 is wired and is aimed at people who have a fixed setup. It's a full metal keyboard that is very solid and durable. We're confident that those searching for a premium low-profile keyboard will love it."
Other features of S1 include:


An epic core inside the keyboard: A brand new powerful ultra-low-power Arm structure MCU armed with 128K Flash provides more flexibility for developers. The polling rate is up to 1000 Hz out of the box, which makes latency non-existent for the competitive game.

Low profile double-shot PBT keycaps: Keychron created a new low profile double-shot PBT keycaps set for the S1. The PBT keycaps will provide excellent oil resistance, enhance the type feel, and prevent the legends from fading.

Switch layouts between macOS & Windows: Built with the Mac users' experience in mind while still retaining compatibility for Windows devices, the S1 comes with a system toggle and an additional set of customized keycaps for both Windows and macOS systems. Users can now save two different layouts on the keyboard, one for each system.

Adjustable in two angles: The S1 has two extra feet that allow users to adjust the tilt angle of the keyboard. One is 3°, and another is 6°, enabling users to find the most comfortable angle for their wrists.

Program with QMK & VIA: With full QMK and VIA support, users can easily program and remap each key on the keyboard. The open-source firmware means endless possibilities for keyboard layouts, shortcuts, backlight effects, and more.

Hot-swappable: The hot-swappable sockets are mounted on the PCB, so users can install or change the switches without soldering. The PCB supports Gateron low profile mechanical switches.

22 RGB light effects: S1 comes with up to 22 types of RGB backlight effects, so users can choose one that fits their mood. They can further fine-tune the RGB hue, saturation, brightness, and adjust the speed of the lightning color effect with ease.

Gateron low profile mechanical switch: The optimized molded Gateron low profile MX Mechanical switch is designed to enhance reliability. Gateron's reputable switches are the best choice for a precise, smooth, and reliable fingertip feel, whether users prefer linear (red), clicky (blue), or something in between (brown).
Media wishing to interview Keychron personnel should contact PR agent Borjana Slipicevic.
About Keychron

Keychron was formed in 2017 by a group of keyboard enthusiasts, designers, marketers, and production experts. The founding team members, Will Ye and Sven Zhu have a combined 20 years of experience in keyboard production and industrial design. They've dedicated themselves to creating the most sophisticated mechanical keyboards with minimalist design. To date, the team has successfully launched and fulfilled 30 mechanical keyboards to customers in 80 countries.
Media Contact

Borjana Slipicevic

Proper Propaganda

[email protected]
Share article on social media or email: