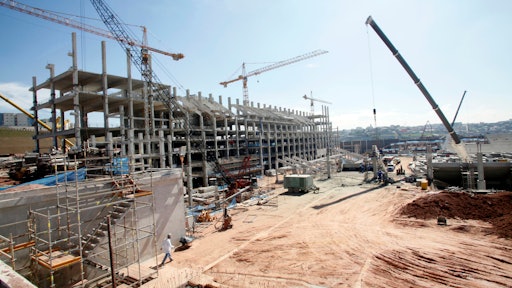 To combat economic challenges, the industry must leverage innovation and the recent three landmark pieces of U.S. legislation to mine the opportunities, while maintaining a healthy cautiousness as economic downturn looms.
©Casa.da.Photo – stock.adobe.com
The U.S. engineering and construction (E&C) sector is embarking on a journey through unprecedented infrastructure, domestic production and energy resilience efforts, all driven and influenced by a detailed legislative framework and significant government funding that is slated to continue into 2031. All while inflation, supply chain and workforce challenges have become the new normal.
To combat these challenges, the industry must leverage innovation and the recent three landmark pieces of U.S. legislation to mine the significant opportunities while maintaining a healthy cautiousness as economic downturn looms.     
Infrastructure Investment and Jobs Act (IIJA): The Infrastructure Investment and Jobs Act is an investment to update and modernize the nation's civil infrastructure, airports, public transit, electric vehicles (EVs) and the EV grid, internet and clean drinking water. The bill provides $550 billion in new spending over the next five years.
The exact timing of additional federal funding into specific states and specific sectors is likely to remain fragmented and highly variable in the short to medium term, but make no mistake, this is a long-term, meaningful investment in U.S. infrastructure. Much depends on the state and local grant application processes, the competitive dynamics within each geography (e.g., relative demand for new broadband or EV charging infrastructure), the establishment of new IIJA-specific program management offices within government agencies, and the federal distribution process of discretionary and formula funding.
Inflation Reduction Act (IRA): This bill sets to fight inflation while investing in domestic energy production and manufacturing and reducing carbon emissions by 40% by 2030. The new proposal will invest approximately $300 billion in deficit reduction and $369 billion in energy security and climate change programs over the next 10 years, including, but not limited to:
Consumer tax credits and rebate programs for energy-efficient homes and clean energy products
Investment tax credits to build clean technology manufacturing facilities
Loans to build new clean vehicle manufacturing facilities
Grant and loan programs for clean electricity
Clean energy initiative accelerator to support technologies that reduce emissions
Climate-smart agriculture practices
Tax credits and grants to support the domestic production of biofuels and infrastructure for sustainable aviation fuel
These credits will provide incentives to development new supporting infrastructure (like building clean technology manufacturing facilities), so this funding, when leveraged with private capital, will generate a significant amount of construction spending in these end markets. The IRA also raises more tax revenues then it will cost, which is expected to reduce the US budget deficit, which would reduce long-term interest costs and reduce inflation (hence the name). A focus on reducing inflation within the sector will help engineering and construction companies act with more fluidity in the space as they lean into more innovative and green opportunities and products.
Creating Helpful Incentives to Produce Semiconductors (CHIPS) and Science Act: Signed into law in August 2022, the CHIPS Act sends $280 billion in spending, over the next 10 years, with $170 billion for science and technology and space exploration. Of that money, $52 billion is earmarked for semiconductor manufacturing, workforce development and research and development (R&D) tax credits. With $24 billion of tax credits for chip production and $3 billion directed to programs that can support the innovation and development of wireless supply chains and emerging technology.
Since enactment, major chip manufacturers have announced significant spending plans for U.S. investment. The CHIPS and Science Act is expected to directly benefit semiconductor chip manufacturing companies and their suppliers looking to invest in greenfield manufacturing plants, or modernization of existing ones. For example, a large semiconductor manufacturer announced plans for a $100 billion investment in a giga-factory in upstate New York. CHIPS is also expected to have a secondary halo effect in the broader ecosystem through migration of supply chains to the US.
Overall, these three landmark pieces of US legislation are incentivizing and encouraging development in numerous areas of the U.S. economy, from developing large-scale energy transition-related assets, renewable energy facilities, new facilities connected to or integrated with traditional industrial and manufacturing processes and a wide variety of other significant capital expenditure efforts. Coupled with the addition of new financing sources and capital providers, the new legislation should provide significant tailwinds for domestic construction.
The Challenge for the Engineering and Construction Sector
While the anticipated funding from recent legislation may seem like a windfall to the sector, it comes at a time when record backlogs, a possible recession and three key headwinds are converging. Engineering and construction companies must navigate these challenges while taking advantage of innovation and opportunity to succeed in the future.
Construction companies that are "cautiously bullish" during these complex times will find themselves positioned for success in the future without risking their long-term growth.
Inflation: As measured by the Consumer Price Index, and more detailed construction materials and labor indices, inflation has reached 40-year highs and has been a leading concern among owners and contractors. This issue is likely correlated to the delivery method, "fixed price lump sum" contracting, but does not lend itself well to public/private sharing of inflation risk, either. Construction companies that take advantage of the high demand while reducing risk of inflation in contracts through collaborative contracting methods (such as progressive design builds or construction management at risk programs) makes the relationship between contractor and client easier and safer.
Supply chain: In May 2022, the Federal Reserve Bank of New York launched the Global Supply Chain Pressure Index (GSCPI) to measure supply chain conditions, creating the index from 1997 data. The highpoint of the pressure index was reached in December 2021 and has declined significantly since then, but in reviewing the overall chart since May 2019, the volatility may continue to impact the sector's ability to get materials in a timely and efficient manner. Improvements to the resiliency and visibility of the supply chain are a critical component of the future state. Investment in smart planning and execution solutions, such as forecasting orders based off the GSCPI, will help companies predict and react faster to disruptions.
Workforce: Unemployment rates in the construction industry, including private wage and salary workers, are at near record lows. Most engineering and construction companies still have significant need for workers to help fill talent gaps. The surge in retirement, which has exacerbated existing succession issues in the industry, begs the question of who will replace industry veterans? In addition, access to talent is seen as a risk to scaling the presence of semiconductor manufacturing in the U.S. To mitigate the risk, companies will need to invest in attracting and developing top talent and investing in automation solutions designed to reduce labor content.  
History has shown that in times of trouble and opportunity, our economy often turns to the engineers, the builders and the trades. As the sector answers the call to help rebuild infrastructure, reimagine transportation, amplify domestic production and address energy resilience, it will take leveraging innovation and leaning into new opportunity to overcome our challenges.
The E&C sector has the muscle memory to freeze in times of economic downturn, but with unique factors like the Great Resignation, inflation, supply chain challenges and the avenues recent legislation has created, construction companies have to pick their battles. Understanding what opportunities are worth leaning into, like focusing on talent and technology and what projects to pass on can reduce risk and grow businesses.
The views expressed by the author are not necessarily those of Ernst & Young LLP or other members of the global EY organization.