It's not a record to be proud of, but it's one that has repeated itself for the construction industry for the better half of the last decade.
With 986 total deaths, the construction industry had the highest number and rate of fatal work injuries by private industry sector in 2021, according to the annual report from the U.S. Bureau of Labor Statistics, released on December 16.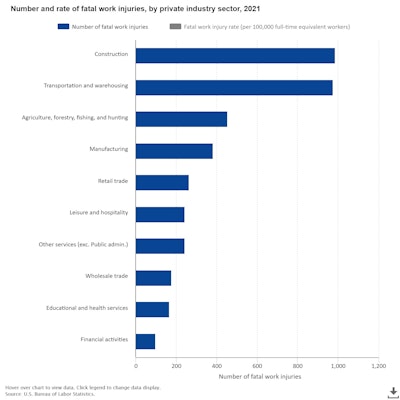 The report attributes the majority of the deaths in construction to falls, slips and trips (390) at 39.5% of total deaths. Transportation incidents were next at 21.5%, followed by exposure to harmful substances or environments at 20.7%. Contact with an object or equipment accounted for 12.9% of all deaths. Violence and other injuries by persons or animals was last at 4.1%.
Despite that, overall workplace deaths in the construction industry were down slightly (2.2%) from the previous year.
Across all industries, there were 5,190 total fatal work injuries recorded in 2021, an 8.9% increase since 2020. This means a worker died every 101 minutes from an occupational injury over the course of the year.
According to BLS, there were 3.6 fatalities per 100,000 full-time equivalent (FTE) workers, the highest annual rate since 2016. By comparison, the construction industry had a fatal worker injury rate of 9.4 per 100,000 FTE workers in 2021.
"Too many lives are being lost from preventable causes," Jessica E. Martinez, MPH, co-executive director of the National Council for Occupational Safety and Health (National COSH), said in response to the numbers. "This unacceptably high death toll represents thousands of people taken away from their loved ones and thousands of empty seats at holiday celebrations in the coming days. And this does not even include the far greater number of workers who died from Covid-19, or long-term exposure to asbestos, silica or other toxic hazards."
According to National COSH, in addition to deaths from sudden workplace trauma, an estimated 95,000 workers die each year in the U.S. from respiratory, circulatory and other diseases caused by long-term exposure to preventable occupational hazards.
"We need an urgent wakeup call to our employers and our government," said Martinez. "Listen to workers. Enforce our safety laws. Remove known hazards, and let's work together to make sure every worker comes home safely at the end of every shift."