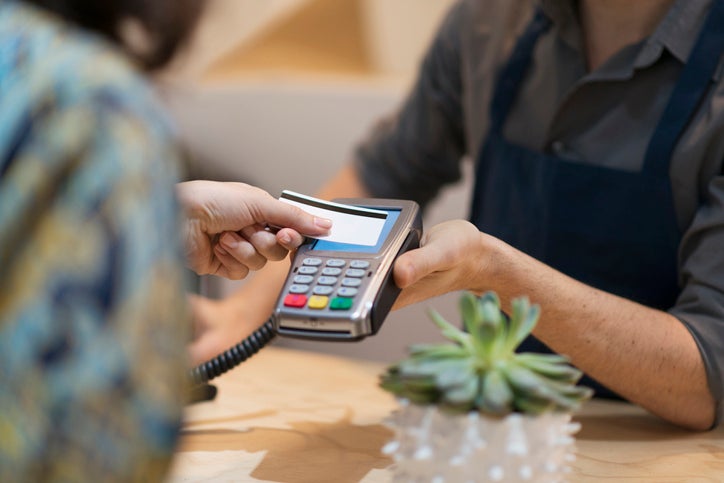 If your small business doesn't have a credit card, today may be the time to apply.
---
Key points
Business credit cards may pay higher rewards, especially on certain categories of business spending.
They can help you keep your personal and business expenses separate.
You don't need to have a registered business to qualify — many forms of extra income count in your application.
---
A lot of personal finance lessons apply to your small business finances. For example, there's value in having a business emergency fund. Budgeting is crucial, as is paying your bills on time and building a business credit score. In the same vein, there are advantages to having a business credit card. But just like a personal credit card it's important not to run up a balance you can't afford to pay off.
Here are some reasons every small business owner needs a business credit card.
1. You may be able to earn more rewards
One big attraction of holding a business credit card is being able to earn rewards on your business spending. You might opt for a decent overall flat rate or choose a card that pays higher rewards in areas where your company spends more, such as on travel or office supplies.
If you have some big-item expenses in the pipeline, you might look for a business credit card with a sign-up bonus. All the Chase Ink Business cards all have generous welcome bonuses. The Capital One Spark 2X Miles pays 50,000 miles if you spend $4,500 in the first three months.
In addition to higher rewards, some business credit cards come with useful perks. For example, if you travel a lot for work, there are cards that offer travel insurance or airport lounge access. These aren't necessary features, but they can make a difference when you're always on the road.
2. It can help you build a credit history for your business
Having good business credit will be useful if you ever need to borrow money. It can also help build credibility with suppliers and reduce other costs, such as your insurance premiums. There are several steps involved in building your credit history, including getting an employer identification number (EIN) and setting up a business bank account. Check out our guide on building business credit for more.
Use a business credit card to cover everyday expenses and make sure you pay down the balance every month. As long as your card issuer reports that activity to the business credit bureaus (unfortunately, not all of them do), it can go a long way toward building a healthy business credit score.
3. It makes it easier to separate your business and personal spending
If your personal and business expenses are all muddled up, it can be a nightmare at tax time. You might also be personally liable if someone brings a lawsuit against your company. Not to mention the increased stress and difficulty involved in tracking your cash flow and budgeting.
Opening a business checking account is essential in keeping your finances separate. It sets a firewall between what's your money and what's the company's and is the first step to separating out your finances. A business credit card is another big step, as it reduces the temptation to use your personal card for business spending.
4. It might help you through short-term cash flow issues
Carrying a balance on any credit card can be expensive and damage your finances over time. However, if you have an immediate cash flow problem, your business card might see you through. For example, let's say a client will be late with a key payment just when you have several bills due. In an ideal world, you'd have some kind of business emergency fund to tide you over, but many business owners operate on such tight margins that it's not always possible.
You might also be able to qualify for a card with a 0% intro APR, which could help you finance a major expense, particularly if you're not able to get a loan or business line of credit. Make sure you'll be able to pay it down before the introductory period ends. Otherwise you could face some pretty hefty interest charges.
5. It may be easier to qualify than you think
You don't have to have a registered business to qualify for a business card. You can qualify as a sole proprietor and list various activities that generate extra income on your application. That includes freelance activity, a side hustle, and gig work. You'll still need to provide a lot of information to support your application, and the card issuer will likely carry out a hard credit check, which will ding your personal credit score slightly.
Bottom line
If you have a small business, there are lots of benefits to opening a business credit card. The only caveat is that you need to pay off your balance each month, otherwise the interest payments will outweigh the value of any of those benefits.
Take some time to find a card that suits your needs. For example, if you're running a dog-walking business, you might not qualify for a card that's designed for bigger companies. Look for a card that rewards the type of spending you commonly do and/or offers perks that you might use. The right business credit card could make a big difference to your operations.
Expert-picked business credit cards with rich rewards and perks
Cash back, travel rewards, 0% intro APR financing: all of these can be great credit card perks for business owners. But how do you find the right business credit card for you? There are tons of offers on the market today, and sifting through them to find the right one can be a big hassle. So we've done the hard work for you.
Get started with one of our top business credit card picks of 2022 today.